News
Carols of our time
Carols of Our Time, compiled and edited by Sarah MacDonald and Timothy Rogers, was published on 13th July 2023 and is now on sale.
At the heart of this collection is a set of well-known hymns, arranged with thrilling descants and imaginative harmonisations by Sarah MacDonald, who is the President Elect of the Royal College of Organists. The descants will enhance the singing of hymns at carol services and Christmas concerts.
All of the carols in this anthology are composed by women, including Charlotte Baskerville, Esther Bersweden, Kerry Boyle, Eleanor Daley, Tamsin Jones, June Nixon, Sarah MacDonald, Sasha Johnson Manning, Stephanie Martin, Yshani Perinpanayagam, Electra Perivolaris, Ghislaine Reece-Trapp, Lucy Walker and Alison Willis.
This volume brings together a broad selection of exceptionally well-crafted carols encompassing a variety of styles, moods, and characters. There is a practical mix of accompanied and unaccompanied pieces, much imaginative and technically sophisticated use of melody, harmony, rhythm, and texture, and a range of levels of difficulty. Overall, the musical content is convincing and functional, and above all, festive.
Copies can be ordered either from the publishers, Encore Publications, or from retailers, including Banks Music Publications, Blackwell's Music Shop (Oxford) (tel. 01865 333582), Boosey & Hawkes, Chimes Music (Barbican & Kensington), Forwoods ScoreStore, Presto Music, and the RSCM in the UK, as well Cliff Hill Music and Lois Fyfe Music in the USA.
Coronation music at Westminster Abbey
A series of fanfares marking ceremonial moments in the Coronation service was specially written for the occasion by Christopher Robinson and performed by the Fanfare Trumpeters of the Royal Air Force, conducted by Wing Commander Piers Morrell. The Recognition Fanfares and the Homage Fanfare have now been published, not only in their original scoring including brass instruments, but also in a transcription by Christopher Robinson for organ.
James O'Donnell was also commissioned to arrange the offertory hymn for the Coronation of Their Majesties King Charles III and Queen Camilla on Saturday, 6th May, 2023 at Westminster Abbey. His new setting of Christ is made the sure foundation is based on the music of Henry Purcell and features a thrilling descant, as well as varied harmonies for the last verse of the much-loved hymn-tune, Westminster Abbey.
The original orchestration, used at the Coronation, was for 4 trumpets, 3 trombones, timpani, voices (with descant) and organ. However, the arrangement by James O'Donnell has also been re-scored for descant, unison voices and organ, so that it can be performed at occasions when there are no brass instruments. We have made available publications of both scorings. Please ask for more details.
Christopher Robinson and James O'Donnell are two of the most distinguished organists and conductors of their generations. After a period as Organist and Master of the Choristers at Worcester Cathedral from 1963-75, Christopher Robinson moved to St George's Chapel, Windsor Castle, where he was Organist and Choirmaster until 1991, when he succeeded George Guest as Director of Music at St John's College. James O'Donnell served for more than a decade as Master of Music at Westminster Cathedral and for more than two decades as Organist and Master of the Choristers (Director of Music) at Westminster Abbey. He is now Organist Emeritus of Westminster Abbey and Professor in the Practice of Organ at the Yale Institute of Sacred Music and the Yale School of Music, as well as Visiting Professor of Organ and Choral Conducting at the Royal Academy of Music in London.
Music from royal occasions
Encore Publications is deeply saddened by the death of Her Majesty Queen Elizabeth II (1926-2022). We offer our heartfelt sympathy to her loving family, remembering always a life of humility and selfless service.
During the period of national mourning, many people said private prayers or took part in public acts of reflection arranged by community organisations. Hymns, psalms and musical settings featured in acts of worship, as they have done over the years at Royal occasions including coronations, weddings, funerals, remembrance, jubilees, anniversaries, and birthdays. While the mood of such events has always influenced the choice of any sacred music, Her Majesty Queen Elizabeth II had favourite pieces of music. Therefore, as we continue to reflect on her life, service and legacy, we draw comfort from the words and music of many beautiful hymns and psalms, such as Guide Me, O Thou Great Redeemer, Eternal Father, Strong to Save, Love Divine, All Loves Excelling, Praise, My Soul, The King Of Heaven, The Day Thou Gavest, Lord, is Ended and The Lord is My Shepherd, which have been used in services held at St George's Chapel, Windsor Castle, St Paul's Cathedral, and Westminster Abbey during the lifetime of the late Queen.
We have now made available a commemorative publication, Music from Royal Occasions, including two hymns (with descants) arranged by James O'Donnell, which were sung at The State Funeral of Her Majesty Queen Elizabeth II, and his setting of verses from Psalm 139, performed at the Service for the Reception of the Coffin at Westminster Hall for the Lying-in-State. The ordering page contains more information.
Happy 30th birthday Encore Publications
October 2022 marked the 30th anniversary of Encore Publications. Like Classic FM and the Oldie Magazine, our music publishing business was founded by Tim Rogers in 1992. Since the launch, we have produced more than 700 printed music publications.
As Organists's Review magazine put it, 'From time to time the publications of a new and adventurous small publisher catch the eye of the discerning musician and it is always good to welcome new compositions and editions which are accurate and legible and which in presentation and price can compete easily with the giants of the music publishing world. Encore Publications is one such small company.'
Tim Rogers continues to work as our Head of Publishing. He makes connections with composers from a diverse range of backgrounds, often suggesting ideas for new projects. As our senior editor, he has worked on a wide variety of music manuscripts, including scores by Bryan Kelly, Sir Philip Ledger and Philip Moore. He is also a composer himself, and his choral music has been performed by the choirs of Chelmsford, Coventry, Ely, Norwich and Portsmouth cathedrals, and broadcast on BBC radio.
Read a PDF Preview of Sinful Adam by Timothy Rogers, which has been recorded by the Choir of Portsmouth Cathedral
Favourite hymn sung at Prince Philip's funeral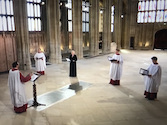 The music performed at the Funeral of Prince Philip created a strong impact, not only for those directly involved in the service, but also for millions of people watching on television. Among the pieces used in the service was the Navy hymn, Eternal Father, Strong to Save, which is known as Melita and composed by J. B. Dykes (1823-76), setting words by William Whiting (1825-78). The hymn was a particular favourite of the Duke of Edinburgh.
Director of Music, James Vivian made a special arrangement of Melita for the Funeral held at St George's Chapel, Windsor Castle, on 17th April 2021. It was sung by a choir of four singers (SATB) and the organ was played by Luke Bond. Writing in The Spectator, Sir James MacMillan said the 'arrangement was practical, effective and touching.' The dignified and elegant hymn arrangement by James Vivian has now been published, including an optional descant. RIP Prince Philip (1921-2021).
Finding hope: in the words of Archbishop Justin Welby
When we reached the terrible milestone of 100,000 deaths from COVID-19 in the UK, Justin Welby invited the nation to pause, pray and reflect on the enormity of the pandemic. The Archbishop of Canterbury also talked about hope, explaining where he finds it.
A new hymn has just been written, based on words by Justin Welby and including beautiful music by Sarah MacDonald. The hymn tune, Hope, may be sung in unison or harmony with organ accompaniment. The verses focus on hope in the resurrection, hope in the love that we are given, and hope in our determination for justice. There is also a refrain which reminds us that 'God came and shared our sorrows' and 'God's in the middle of this mess.'
Sarah MacDonald said, 'I wanted to write an uplifting, singable melody, which would be easy for congregations to learn. I took particular inspiration from some of the great hymn tunes of recent decades. At the same time, I have tried to add an extra musical dimension to Archbishop Justin's moving words. I cannot wait to hear the hymn, Hope, sung by a full congregation, since that will really confirm we are on the road to recovery.'
Read a PDF Preview of the hymn (full music edition)
A Devotion for Passiontide
Via Crucis is a major publication comprising prayers by Eric Milner-White (1884-1963) and organ music by Philip Moore.
This book contains a selection of deeply felt but restrained prayers. These are interspersed with 15 descriptive organ pieces, which act as musical responses to the words, and range from meditative to more dramatic, harrowing moods. Together, the prayers and music combine to provide a beautifully fresh perspective on Lenten themes.
The first performance was given by David Price at Portsmouth Cathedral in March 2021. Further UK performances were arranged during Holy Week 2021 at cathedrals and churches in Bristol, Cardiff, Guildford, Hereford, Liverpool, London, Newark, Peterborough, Tewkesbury and Warwick, as well as in the USA.
Read PDF Preview of Via Crucis
Saying Goodbye Properly
Death is always an outrage, and, during the pandemic, families have faced the difficult task of saying goodbye properly. In March 2020, an Anthem for Mary and David (He'll Soon Come to Call Me) was recorded soon after the death of David Briggs, aged 102. It would have been sung at his funeral had it not been cancelled due to Coronavirus Covid 19.
The choral work, including beautiful words by Anne Atkins and music arranged by Ben Atkins, has now been published to coincide with the one-year anniversary.
Anne Atkins is the author of several novels, most recently An Elegant Solution, a literary thriller set in Cambridge, with a dashing Aspergic hero. She is also a regular contributor to Thought for the Day on BBC Radio 4's Today programme, as well as many other radio and television programmes and most national newspapers.
Read PDF Preview of the Anthem for Mary and David
Concerts at Christmas and the New Year
We are delighted to publish two new orchestral pieces, suitable for concerts at Christmas and the New Year.
Adam Saunders has composed an exuberant concert work, Journey to Lapland, which describes a fictional, magical journey through the snow to the heart of Lapland, against a backdrop of the colourful Northern Lights. You can imagine travellers having fun, enjoying bracing sleigh rides, meeting mischievous elves, driving in snowmobiles, and sledding on a husky safari. Best of all, there is the excitement of meeting the great man himself, Santa Claus! The Bournemouth Symphony Orchestra gave the first performance in December 2020.
Strictly speaking, the New Year Waltz by Thomas Hewitt Jones has a few more musical twists and turns than you might expect. As well as capturing the glitz and glamour of a ballroom, the orchestral piece weaves in an uplifting airing of Auld Lang Syne, giving it the true spirit of a New Year celebration. This delightful, lively waltz has been recorded by the Bromley Radio Orchestra, conducted by the composer, and is available on all good streaming networks.
Read PDF Preview of Journey to Lapland
Read PDF Preview of New Year Waltz
Christmas Eve at King's (100 Years of Nine Lessons & Carols)
For this fascinating book, the author, Timothy Rogers, has delved into the archives in Cambridge to produce a complete record of the music that has been used in the world-famous Festival of Nine Lessons and Carols at King's over the last 100 years. Listing all of the Christmas pieces, he reveals the most performed carol from the Festivals since 1918. The book mentions a scheme, devised by Boris Ord, for performing the hymn, Once in royal David's city, and it identifies the keys that he used for certain carols to make them sound brighter. There are also comments made by Sir David Willcocks, giving his ideas for refining the service. The author remembers the composers that Sir Philip Ledger introduced into the Festivals, as well as highlighting popular carols from Sir Stephen Cleobury's era.
Choir & Organ said, 'Timothy Rogers has thoroughly digested the annual Christmas Eve service sheets in the King's archive and presented the results as clearly as possible... any musician who loves the King's Christmas Eve service will find in this book things to intrigue and in which to delight.'
Copies of the book (ISBN 978-1-5272-4725-3) are on sale from many retailers including Blackwell's, Presto Music and Waterstones.
Oxford commission for Ghislaine Reece-Trapp
Christ Church Cathedral Choir, Oxford, and Frideswide Voices gave the premiere of an anthem, The Great Life Eternal by Ghislaine Reece-Trapp on Saturday 26th September at Evensong. This new piece was commissioned to celebrate 40 years of female students at Christ Church, Oxford. The work for soprano 1, soprano 2 and baritone soli, and unaccompanied mixed voices uses words from the poem Treasured Moments by Olivia Ward Bush-Banks (1869-1944).
Ghislaine is a former Organ Scholar, Academic Scholar and Assistant Organist of Christ Church, Oxford. She has performed as an organist and conductor across the UK and abroad, and she currently teaches academic music at Highgate School, as well as running the Girls' Chapel Choir.
In recent times, Ghislaine has focused increasingly on writing music. She has worked on a number of projects with Encore Publications, including another anthem, God's People for God's World, for SATB and organ with newly written words by Robin Morrish.
Read a PDF Preview of The Great Life Eternal
Read a PDF Preview of God's People for God's World
Organ works
Our range of organ music is growing and we are delighted to add two new publications by Neil Cox. His Creation Dance was played by Peter Holder as the final voluntary in the Commonwealth Service 2020 in Westminster Abbey, in the presence of Her MajestyThe Queen and members of the Royal Family. It began as a musical challenge, to write a declamatory opening using all twelve semitones of the scale. The piece is rhythmically energised, often displaying the colours of the organ, the directions in the score are deliberately 'visual'.
The Marc Chagall window in Chichester Cathedral dates from 1978. It is a blaze of red with punctuations of blues, greens and yellows, its theme is Psalm 150. Laudate by Neil Cox is an evocation of Chagall's vibrant work, an image of joy and celebration.
Read a PDF Preview of Creation Dance
Read a PDF Preview of Laudate
Other highlights in our organ catalogue include Philip Moore's Prelude and Fugue on the name Jackson for chamber organ, which was written to celebrate Francis Jackson's 100th birthday in 2017. Appropriately, there are 100 bars of music.
Bryan Kelly's Epitaph for Peace was originally composed as the second movement of his orchestral work, Lest We Forget. It is a calm, passionate elegy, originally inspired by the centenary of the start of the First World War in 2014. The composer has now transcribed the music for organ, providing a useful piece for remembrance.
In addition, the Badinage on 'The Holly and the Ivy' by June Nixon provides a useful piece for carol services and Christmas concerts. This arrangement of a French traditional carol uses material from her highly popular choral piece, based on the same tune.
Read PDF Preview of Prelude and Fugue
Read a PDF Preview of Epitaph for Peace
Read PDF Preview of Badinage
New carols
As always, our catalogue features new Christmas repertoire by a diverse range of composers. When you start programming your concerts or carol services, please make time to read and consider our latest publications, which offer choirs useful, fresh choices for the Christmas season.
We are pleased to announce the publication of the following items:
| Title | Composer | Scoring |
| --- | --- | --- |
| The journey | Malcolm Archer | SATB |
| What child is this? | Malcolm Archer | SATB and organ |
| Quem vidistis, pastores? | Richard Elfyn Jones | SATB |
| Tomorrow shall be my dancing day | Jeremy Filsell | SATB and organ |
| All was for an apple | Richard Lambert | SATB |
| The Christ child | Caroline Leighton | SATB and piano |
| Wonder (How like an angel came I down) | Michael Leighton Jones | SATB |
| The Lord at first did Adam make | arr. Michael Nicholas | SATB and organ |
| Coventry carol on a ground | arr. June Nixon | SATB and organ |
| Ding dong! merrily on high | arr. June Nixon | SATB and organ |
| Eastern monarchs | arr. June Nixon | SATB, drum (optional) and organ |
| Missa Nativitatis Domini | June Nixon | a Christmas Mass based on traditional carols for SATB and organ |
| Remember, O thou man (on a ground) | arr. June Nixon | SATB and organ |
| The cherry tree carol | arr. June Nixon | SATB and organ |
| Corpus Christi carol | Richard Peat | upper voices |
| O magnum mysterium | Richard Peat | SSAATTBB |
| On Christmas Day | Simon Preston | SATB and organ |
| The fruit of life | Timothy Rogers | SATB or AATB or ATB |
| As we journey on | Olivia Sparkhall | SATB and organ |
Philip Moore talks about his new carol, The Angel Gabriel
The Angel Gabriel was commissioned by Daniel Hyde and the Choir of King's College, Cambridge, for A Festival of Nine Lessons and Carols in 2019. This carol is also dedicated to the memory of Sir Stephen Cleobury, who died in November 2019, soon after his retirement.
Speaking about his new piece, Philip Moore said "the gentle and familiar lilt of the Basque melody to which these words have been sung is known and loved all over the world. Without in any way denigrating the music, I have often felt that a more vigorous treatment of these words would also be appropriate. 'His wings as drifted snow, his eyes as flame,' for example, gives more than a hint of the drama of the Annunciation. My setting of the words attempts to illustrate this. The organ introduction reflects the descent of the Angel Gabriel, as well as my childish love of the thought of Heaven being above us. Arriving at the words 'My soul shall laud and magnify his holy name,' the opening of Stanford's Magnificat in G sprang to mind; I hope that the small quotation from this iconic work will add interest, as well as reflecting my admiration for a composer whose birthday I share."
Read a PDF Preview copy of The Angel Gabriel
RIP Sir Stephen Cleobury (1948-2019)
We were deeply saddened to hear the news of Sir Stephen Cleobury's death in 2019. We wish to give our most sincere condolences to all of his family and friends. For more than 25 years, Sir Stephen was a regular contributor to our catalogue. We have been hugely privileged to work with him and to publish his choral music, including the original set of Christmas descants contained in the volume, Sing, Choirs of Angels. In 2018, we published a new collection, Tidings of Joy, containing three Christmas hymns with descant. We have recently published his carol arrangement of Past three o'clock, which featured in the TV broadcasts of Carols From King's in 2007 and 2016.
Read a PDF Preview copy of Past three o'clock
Speakman wins competition
James Speakman was the winner of the John Sanders Memorial Competition for Young Composers 2019. His piece, Tui sunt caeli is a setting for unaccompanied mixed voices (SATBarB) from the Third Mass of Christmas. It was the unanimous choice of the panel of judges comprising Dr Christopher Robinson CVO, CBE, Bob Chilcott, Adrian Partington and Timothy Rogers. The work has been published by Encore Publications and was given its first performance by the Gloucester Cathedral Choir at the Three Choirs Festival in Gloucester in August 2019.
James read music at Cambridge University and was Organ Scholar of Corpus Christi College. He teaches music at the London London Oratory School and is a prize-winning Associate of the Royal College of Organists.
Read a PDF Preview copy of Tui sunt caeli
Royal Descants
The final congregational hymn used at the Royal Wedding of Prince Henry and Meghan Markle has a strong Welsh melody, which is known as Cwm Rhondda. The thrilling descant and organ part for Guide me, O thou great Redeemer was composed for the occasion by James Vivian, Director of Music, who conducted the Choir of St George's Chapel, Windsor Castle, during the marriage service. This special music has been published by Encore Publications. It also featured on the official album (Decca cat. no. 6765519).
James Vivian also made arrangements of two hymns for marriage of Princess Eugenie and Jack Brooksbank in October 2018. His last verse arrangements of Glorious things of thee are spoken and Love divine, all loves excelling are also published by Encore Publications.
Read a PDF Preview of Cwm Rhondda
Christmas at King's
The 2017 Festival of Nine Lessons and Carols from King's College, Cambridge, included a new piece, Adam's Fall by Richard Elfyn Jones (music) and David Broadbridge (words). The verses of this original carol are rich with imagery of the tree, the apple, Paradise and Eden, while the refrain taps into medieval rural traditions of verse and carolling. The music mirrors the theology of the words, conveying much emotional expression before reaching a reflective conclusion.
Both Adam's Fall and We Three Kings arranged by Martin Neary have been released on a new album, 100 Years of Lessons and Carols, which marks the 100th anniversary of A Festival of Nine Lessons and Carols on Christmas Eve 2018.
The 2017 service from King's College Chapel also featured Sir Stephen Cleobury's harmonisation and descant for the Christmas hymn, O Little Town of Bethlehem, which is published in the collection, Sing, Choirs of Angels, containing six Advent and Christmas hymns. In 2018, Stephen Cleobury arranged three more Christmas hymns with descants for another seasonal collection, Tidings of Joy.
The traditional celebration of music and readings, Carols From King's, which was shown on BBC2 in December 2017, included June Nixon's beautiful arrangement of The Holly and the Ivy, a setting of a traditional French carol. This carol was also used in the 2010 Festival, which has since been released on CD (King's label, KGS0001).
Read a PDF Preview of Sing, Choirs of Angels
War and peace
British composer, Bryan Kelly (b. 1934) has composed a compelling orchestral work, Lest We Forget. His piece was originally inspired by the centenary of the start of the First World War in 2014. It takes a musical journey from conflict and unrest to reconciliation and peace. Therefore, Bryan Kelly's thought-provoking score is highly suitable for concerts drawing on the themes of war and peace.
The opening section, Omens of War, is scored for woodwind, brass and percussion. It has the character of an aggressive fanfare and involves a marching tune. In marked contrast, the calmer, loving second section, Epitaph for Peace, is a passionate elegy, scored for string orchestra. The beautiful tune from the ending is deeply emotional, making a truly lasting impression that would be suitable for concerts or events on the themes of remembrance, commemoration and peace. The two distinct movements comprising Lest We Forget can be performed either consecutively or just as stand-alone, shorter pieces to mark and remember the lives of those who lived, fought and died in wars.
Epitaph for Peace has been recorded by the Royal Ballet Sinfonia, conducted by Barry Wordsworth, and the CD release (Heritage Records, HTGCD285) was a Classic FM featured album. More recently, in November 2018, Omens of War was also recorded by the Royal Ballet Sinfonia, conducted by Ronald Corp, for future release.
In addition, the composer has transcribed the slow second movement for solo organ, so that it can be performed during other acts of remembrance.
Read a PDF Preview of Epitaph for Peace (organ score)
Christmas music for orchestras
Everyone knows The Twelve Days of Christmas, but not as rewritten by John Julius Norwich in his delightful correspondence, which record the daily thank-you letters from one increasingly bemused young lady to her unseen admirer.
Adam Saunders has composed a new piece for narrator and orchestra, which is based on the spoof book and brings to life all the characters and humorous situations. The first performance was given by the BBC Scottish Symphony Orchestra, conducted by Stephen Bell, in December 2014.
The colourful, zany work has also been recorded by the RTE Concert Orchestra, conducted by Gavin Sutherland and with Joanna Lumley in the role of narrator.
Following the success of A Christmas Cracker, Thomas Hewitt Jones has composed other orchestral pieces, which are suitable for family concerts. His Christmas Party is a fantasy for violin solo and orchestra. The BBC Scottish Symphony Orchestra gave the UK premiere and the work has also been recorded by the Royal Ballet Sinfonia, conducted by Gavin Sutherland, with Simon Hewitt Jones (violin) as soloist. The recording is released on the Signum Records label. A Christmas Hamper for orchestra is packed full of festive treats, beautifully presented in indulgent orchestrations, brimming with sumptuous melodies such as Silent night and O holy night. Christmas Angels, also for orchestra, is filled with the heavenly sound of Christmas music associated with angels.
Read a PDF Preview of The Twelve Days of Christmas (Correspondence)
Read a PDF Preview of Christmas Party (Violin & piano edition)
Supporting the Friends of Cathedral Music
Christopher Gower's new anthem, Tune me, O Lord, was composed for Professor Peter Toyne CBE, Chairman, and the Friends of Cathedral Music to mark the 60th anniversary of the founding of FCM. His beautiful piece for unaccompanied mixed voices with words by Christina Rossetti (1830-94) was given it premiere at the Festal Evensong service in Southwark Cathedral in June 2016.
As part of the anniversary celebrations, there was also new music by Dr June Nixon, the widely respected composer and former Organist and Director of Music at St Paul's Cathedral, Melbourne. She was commissioned by the FCM to write an introit, Praise our God with mirth!, for SATB and organ, setting words by Thomas Campion (1567-1620). The first performances were given at the special services marking the FCM's Jubilee in Sydney, Melbourne and Brisbane in November 2016.
Read a PDF Preview of Tune me, O Lord
A newly found manuscript by Gordon Jacob CBE
Following the recent discovery of a manuscript by the English composer Gordon Jacob (1895-1984), a new anthem for harvest, O praise the Lord, was published in September 2015. For years Jacob's lively choral work was been hidden away in bookshop selling rare and second-hand music. In 2014, John Turner, who is a virtuoso recorder player, purchased a brown paper folder of music containing the composer's original manuscript and other scores of his piece, when a dealer offered it for sale in their closing down lists. 'The anthem is an early work by Gordon Jacob,' said John Turner, 'written in the year after he won the Arthur Sullivan Prize for Composition at the RCM, and with a few glimpses of his mature style. No doubt his teacher Stanford would have approved of the celebratory and almost Handelian character of the work.'
Tim Rogers, Head of Publishing at Encore Publications, also commented that 'it's rare to discover an unpublished piece of music by such an important composer. The anthem is direct and approachable, and adds to the output of a highly trusted British composer, who wrote relatively little church music. We are very grateful of the composer's widow, Margaret Jacob Hyatt, for permission to publish this exciting anthem.'
Read a PDF Preview of O Praise the Lord
RIP John Scott (1956-2015)
John was a truly gifted musician, who always performed with remarkable sensitivity and style. Playing a distinctively broad stylistic range from J.S. Bach to Simon Preston, his technical skills were second to none, engaging the listeners with a real sense of individual personality. His own compositions were imaginative and highly original, often providing a very fresh take on familiar texts. He never did things badly, and he was a caring, thoughtful friend, offering support in many ways. Our thoughts and prayers are with his family and all those who were close to him.
Jonathan Bielby's introit, May choirs of angels receive him, was written in memory of John Scott. This piece was first performed at St Thomas Church, New York, in November 2015, and is published by Encore Publications. Similarly, a beautiful, reflective anthem, At each beat of my heart, has now been composed by Randall Svane in John's memory and is now available.
The John Scott Service by Philip Moore is a setting of the Magnificat and Nunc Dimittis. It uses John Scott's name as a musical idea and an appropriate way of honouring such a fine musician.
Read a PDF a Preview of May Choirs of Angels Receive Him
Read a PDF a Preview of the John Scott Service
Svane wins composing competition
Randall Svane was awarded first prize for his St Thomas Service (Magnificat and Nunc dimittis) in the 2014 Saint Thomas Church Fifth Avenue Composition Competition. The panel of judges included Sarah Baldock, Judith Bingham, Sarah MacDonald and John Scott. Entries were received from 47 composers in 17 different states, as well as Australia, Canada and the UK.
We are delighted to publish Randall Svane's composition, as well as the St Thomas Service by Philip Moore, which as awarded second prize in the same competition. Both of the winning compositions were sung at Evensong during the 10th anniversary of the Girl Chorister Course to be held at Saint Thomas Church, New York, in 2015.
Read a PDF Preview St Thomas Service by Svane
Wordsworth conducts Kelly
The Royal Ballet Sinfonia, conducted by Barry Wordsworth, recorded a complete disc of music by Bryan Kelly in 2014. The recording features Epitaph for Peace, which is the second movement of Lest We Forget. In addition, it contains seasonal music including Kelly's suite of carols, A Christmas Celebration, together with his Nativity Scenes, both of which make the perfect accompaniment to the festive season. The CD, released on the Heritage label (HTGCD 295) was chosen as a featured album by John Brunning for Classic FM. He described the recording as 'a lovely collection of bright orchestral tunes by a composer who is well worth discovering.'
Read a PDF Preview of A Christmas Celebration
Two Hymns from the Royal Wedding
The first two congregational hymns used at the Royal Wedding of Prince William and Catherine Middleton both have strong Welsh melodies. The thrilling arrangements of Guide me, O thou great Redeemer and Love divine, all loves excelling were made for the ceremonial occasion by James O'Donnell, Organist and Master of the Choristers of Westminster Abbey, who conducted the Choirs of Westminster Abbey and HM Chapel Royal, St James's Palace, during the marriage service. This special music has been published by Encore Publications and features on the official album (Decca cat. no. 2770662).
Read a PDF Preview of the Two Hymns